The method of learning Lord Baden Powell introduced to the Scouting Movement is "learning by doing". For Cubs this means growing whilst playing. We spoke to Tamryn Goslett (9) from 58th Durban Cub Pack in KwaZulu-Natal who embraces the Cubbing method.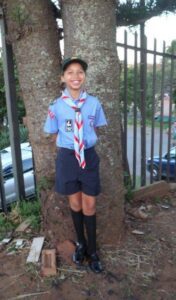 SSA: Why is Cubbing so much fun?
We do fun activities and we learn new things while we are playing.
SSA: What was your best experience with Cubs?
My best experiences are camps because they are very nice!
SSA: What is the weirdest thing you ate outdoors?
The weirdest thing I ate outdoors was meat because we struggled to cook it properly.
SSA: What was the toughest challenge at Cubs?
My toughest challenge was learning how to tie all the different knots.
SSA: What was the most amazing place you visited with Cubs?
Once we went to visit the Botanical Garden at night. That was amazing!
SSA: Can you name a few things you have learnt by being a Cub?
By being a Cub I have learnt how to work as a team, how to tie knots and how to braai meat on a fire.
SSA: What did you teach your parents that you learned at Cubs?
I taught my dad how to make a foil cup.
SSA: What makes a good Akela?
A good Akela must be helpful, friendly and easy to talk to!
SSA: Why is your Akela special?
My Akela is special because she helps us and cares for us.
Cubbing Rocks because … we do fun activities and it is nice.
#Cubs100, #CubCentenary #CubbingCentenary