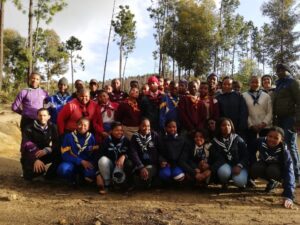 Over 400 senior and junior Scouts with various Advancement levels braved the temperamental weather to partake in the Gordon's Shield Scout Competition at the Hawequas Scout Adventure Centre from the 10th to the 11th of August 2019. For the first time, Scouts from the Scouting–in-Schools programme joined the competition. The four teams were made out of 32 Scouts from 7 High Schools. The SiS Scouts are currently all working on their Adventurer level.
Scouting-in-Schools is an initiative run in partnership with the Western Cape Government, Department of Culture and Sport and the After School Game Changer Office. The Scouts acquire skills whilst attending Scout meetings at their schools after school hours.
The Gordon Shield competition was introduced in 1915 and is the Western Cape Scouting's standing camp competition. "We had 44 teams compete this year, which is the highest number of teams in many years," states Nigel Forshaw – RTC Scout Programme for the Western Cape Scouts. "The Scouts were required to camp for 2 days and one night whilst their Scouting skills were put to the challenge. For the first time we were also able to welcome 4 teams from our Scouting-in-Schools Programme!"
"The activities we put forward to the participating Scouts challenged them to put into practice their leadership, problem solving and project management skills. They needed to work in teams to complete the tasks at hand", adds Nigel.  The Scouts had to pitch and sleep in their own tent, ensure they were comfortable and dry despite the heavy rain, cook a two course hot meal for dinner over a fire in a potjie or Dutch oven, build pioneering gadgets – including a table with seating, a flagpole, a gateway to the entrance of their campsite and a kitchen with washing up stand. In addition to this they were tested on their Scouting skills which included compass work, the use of an axe, knots, climbing a rope, understanding different cloud formations and alien vegetation removal.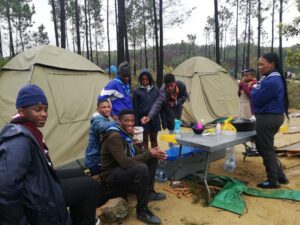 "The Scouts really enjoyed this experience", says Scouting-in-Schools coordinator Ahmad Solomon. "Not only did they make new Scout friends from other schools and different areas, but out of the 44 teams in the competition they placed 40, 33, 38 and 39th respectively! We look forward to being able to attend the competition again next year in 2020!"
Well done to the following schools for being part of this exciting and adventurous event: Hector Petersen High School – Kraaifontein, Oscar Mpetha High School – Nyanga, Fezeka High School – Gugulethu, Manyano High School – Khayelitsha, Thembelihle High School – Khayelitsha, Kwamfundo High School – Khayelitsha and Bulumko High School – Khayelitsha
To contact our Scouting-in-Schools team, email ahmad.solomon@scouts.org.za. 
#scoutssouthafrica #WesternCapeGovernment #AfterSchoolGameChangerOffice #Skills4Life #volunteer #ScoutsMakeThingsHappen