1450 families who lost their homes on the 18th of December will receive a Christmas hamper with food and hygiene products later today. 1300 shacks burnt down when a fire raged through the Masiphumelele informal settlement in Kommetjie – displacing 4000 people. Local NGO 'Living Hope' has been coordinating the relief efforts. Scouts, Rovers, Scouters and community members throughout the Western Cape have been rallying and donations have been flooding in. A trailer to transport the donations was generously sponsored by Valyland Trailer Hire.
"It's been emotionally trying, yet inspiring, to see what we can achieve together in a time of crisis", says Conrad Thomas the Two Oceans District Commissioner. "We were able to deliver three trailer loads of donations from Scouting members. Upon delivery on Tuesday, Living Hope's coordinator Avril mentioned they needed transport to collect more donations. So together with Western Cape Regional Commissioner Paddy Milner, Ahmad Solomons and other volunteers we decided to fill this gap and have been collecting donations from people around the Peninsula. Many elderly people whose childrens had left the home had beds and clothes and other items to give."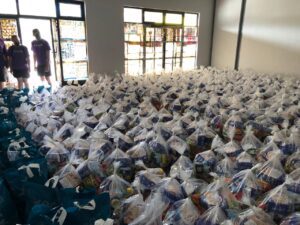 In the mean time much needed hygiene products and food have been collected to be handed out today on Christmas eve. "Yesterday together with 10 members of the 6th Rondebosch Rover Crew we packed 750 food parcels at Living Hope which were added to 700 donated by the Department of Human Settlements" he continues. "So we will be able to give 1450 hungry families some relief later today. This year has been a year like no other. And this is definitely a Christmas I will never forget", he says with a sigh of exhaustion.
Eventhough this is only the beginning of the healing and rebuilding process for thousands of families, we are humbled to see how community and Scouting members alike throughout the Western Cape are sharing a ray of hope in dark times.