2018 is the Rover Centenary and we are focusing on the ins and outs of Rovering in South Africa.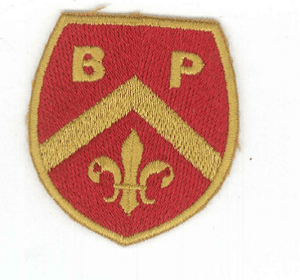 The BP Award is the highest Scouting award available to Rovers in South Africa. It is designed to challenge and test all who set out to achieve this prestigious Award and takes into consideration the aim of Scouting, to encourage the Physical, Intellectual, Emotional, Social and Spiritual Character Development of youth.
Similar to other awards, the BP Award allows for the highest standard to be set. This occurs through the individual participant planning and proposing their goals to their Rover Crew. Through consultation and discussion at this level a target is set that is of a level that is guaranteed to be challenging and that meets the requirements of the BP Award.
To achieve the BP Award a Rover needs to complete the following:
1. Attain the four Advancement Bars.
2. Attain four Rover Awards.
3. Attain at least one of the Rover Challenge Awards.
4. Attend a panel interview with the RC or their nominee to confirm that the Promise and Law have been adopted as a way of life and discuss the personal development that has occurred by means of the Rover Programme.
BP Awards Register

Date
Name
Group
Region
1964
Forcioli A
4th Observatory Rover Crew
Western Cape
1966
Stevenson Keith A
20th Cape Town Rover Crew
Western Cape
1966
James Green
4th Benoni Rover Crew
Gauteng
1966
Alan Martin
1st North Rand Rover Crew
Gauteng
1966
Jan Jansen
1st North Rand Rover Crew
Gauteng
1967
Paul Scott
4th Benoni Rover Crew
Gauteng
1968
Baker W
Cape Western Province
Western Cape
1969
Cecil James
4th Benoni Rover Crew
Gauteng
1973
Douglas Dudgeon
North Western Rover Crew
Gauteng
1980
Samuel Draper
1st Dinwiddie Rover Crew
Gauteng
1980
Kim Kitchen
1st Germiston Rover Crew
Gauteng
1980
Michal Rozanski
1st Germiston Rover Crew
Gauteng
1980
David Silvester
1st Germiston Rover Crew
Gauteng
1985
Guy Caws
Impeesa Rover Crew
KZN
1985
Neil Robinson
Impeesa Rover Crew
KZN
1985
Gavin Robinson
Impeesa Rover Crew
KZN
1989
Ivan Pleaner
Rhodes Rover Crew
Gauteng
1989
Stephen Harflett
Modderfontein Rover Crew
Gauteng
1990
Clive Roberts
Modderfontein Rover Crew
Gauteng
1990
Fred Bailey
Modderfontein Rover Crew
Gauteng
1990
Daryl Haw
Rhodes Rover Crew
Gauteng
1990
Laurens Dewee
Southdowns Rover Crew
Gauteng
1990
Justin Cochrane
Rhodes Rover Crew
Gauteng
1990
Gerald Myburgh
Rhodes Rover Crew
Gauteng
1990
Lourens Brits
Rhodes Rover Crew
Gauteng
1990
Graham Laurenson
Rhodes Rover Crew
Gauteng
1992
Donald Farnworth
Rhodes Rover Crew
Gauteng
1993
Brickhill Quinton
1st Sanddrift Rover Crew
Western Cape
1993
Shears Cliff
False Bay Rover Crew
Western Cape
1993
Garvey Elizabeth
Kalk Bay Rover Crew
Western Cape
1993
Gary De Haas
Rhodes Rover Crew
Gauteng
1993
Leon Swanepoel
Rhodes Rover Crew
Gauteng
1994
Brickhill Cadle Rory
1st Sanddrift Rover Crew
Western Cape
1994
O'Brian Angela
1st Sanddrift Rover Crew
Western Cape
1994
Riaan Swanepoel
Rhodes Rover Crew
Gauteng
1994
John Potter
Vaal Triangle
Gauteng
1995
Gavin Coleman
Rhodes Rover Crew
Gauteng
1995
Adrian Barratt
1st Edenvale
Gauteng
1996
Johan Ritky
1st Germiston Rover Crew
Gauteng
1996
Tanya Evans
Phoenix Rover Crew
Gauteng
1996
Gerard Evans
Phoenix Rover Crew
Gauteng
1997
Brian Robertson
2nd St Andrews
Gauteng
1997
Robert Saunders
2nd St Andrews
Gauteng
1999
Jean-Paul Percival
Greenside Rover Crew
Gauteng
1999
Warwick Henley
Edenvale
Gauteng
2000
Colin Genricks
Phoenix Rover Crew
Gauteng
2000
Allan Baurry
Hart's Own
Gauteng
2000
William Law
Robin Hills
Gauteng
2000
Gregory Hogan
Hart's Own
Gauteng
2000
Franklin Andrew
1st Bergvliet Rover Crew
Western Cape
2000
Lulofs Rupert
1st Bergvliet Rover Crew
Western Cape
2000
Prince Charles
1st Bergvliet Rover Crew
Western Cape
2001
Bernd Kleyenstuber
North Western
Gauteng
2001
Samantha Southee
2nd St Andrews
Gauteng
2002
Gerard Macgarron
Boksburg
Gauteng
2002
Smith Justin
1st Strand Rover Crew
Western Cape
2002
Wayne Gemmell
Boksburg
Gauteng
2002
Black Derrick
1st Strand Rover Crew
Western Cape
2003
Gerald Martin
1st Randhart
Gauteng
2006
Elizabeth Howroyd
Odyssey
Gauteng
2007
Mark Pollack
Hart's Own
Gauteng
2007
Douglas Cossey
1st Eagles
Gauteng
2007
Clinton Barry
1st Malvern Rover Crew
KZN
2007
Sean Lally
1st Malvern Rover Crew
KZN
2009
Richard Metcalf
2nd Boksburg
Gauteng
2009
Nicholas Egan
Impeesa Rover Crew
KZN
2009
Craig Van Der Bank
Phoenix Rover Crew
Gauteng
2011
Grant Fluke
Springs Central Rover Crew
Gauteng
2011
Andrew Campbell
1st Bedfordview
Gauteng
2011
Cameron Belling
SIGMA Rover Crew
KZN
2011
Adrienne van der Watt
1st Malvern Rover Crew
KZN
2011
Grant Vernon
SIGMA Rover Crew
KZN
2012
Gregory Miller
Springs Central Rover Crew
Gauteng
2016
Peter Le Roux
Phoenix Rover Crew
Gauteng
2017
Jearoid Harris
1st Greenside Rover Crew
Gauteng
2017
Devon Bowen
Table Bay Rover Crew
Western Cape
2017
Ubayd Bapoo
Constantiaberg Rover Crew
Western Cape
Chair: National Rover Programme