Meerkat Ambassador, Silver Protea recipient and Wood badge holder Sherley Southworth was born in Scotland and grew up in the south of England. She trained as a nursery nurse and worked as a nursery school and primary school teacher. She married a diplomat and they lived in Pakistan, Nigeria, Thailand, England and France. In 1987 they came to South Africa on a 3 year posting, fell in love with the country and its people, and stayed. Sherley is now a widow and the mother of two sons, one of whom is a Springbok Scout and the other a Wood badge holder who is also a Scouter in the UK. Both her grandchildren have also been involved in Scouting. This is her Scouting story:
"I did the Brownie and Guide thing as a child, then took my son to Robins and Chinchoks – the Thai equivalent of Meerkats in Bangkok. When we came to South Africa in 1987 I took my daughter to the Brownies and my sons joined the 1st Bordeaux Scout Group. They were Cub Instructors. In 1988 they came home and said, "Mum, Akela is moving to White River and we said you would take over" to which I replied "Never in a million years will you see me in that awful khaki uniform" … I was invested 5 weeks later! In 1988 or 1989 I remember helping a young Bordeaux Scout sew hessian on a Kontiki raft. I got to know him quite well. His name was Brendon Hausberger, currently our Chief Scout!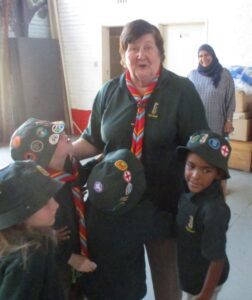 At the moment I am Granny Meerkat, Den Scouter at 1st Randburg Scout Group and I'm loving every minute of it. I am inordinately proud of my Meerkats! Scouting doesn't add value to my life, it IS my life. I only plan on retiring when I grow up!
I obtained my Wood badge at Gilwell in 1991. I still remember the laughter and the friendships I formed there, as well as being TERRIFIED of my reader! In a world increasingly dominated by electronics, antisocial media and cyber bullying, anything we can do to give the next generation the skills to cope with life must be good. Therefore the Wood badge training is so important for Adult Leaders. I just hope the new Scouters don't find their trainers as scary as I found mine!
Today I still use the skills I learnt at the course. I try not to think out of the box, but to throw the box away! I try to find ways to make the difficult and "boring" things fun! I also have the determination to stick to things that I know to be right. I am proud to be a Wood badge holder. Put it this way, you can sing the Scout Hymn at my funeral and bury me with my beads around my neck. I am a Scouter till my dying day. I hope I have added fun to the lives of the Cubs and Meerkats and pointed them in the right direction. I have tried "to leave this world a little better than I found it". I am very grateful for the joy, friendship and value Scouting has given me."
Sherley's life motto is:
"Stand Tall!"
#WoodBadge100 #WoodBadgeTraining #WoodBadgeCentenary #scoutssouthafrica #Skills4Life #WomensMonth #Women #EmpoweringYouth #volunteer