Adrienne van der Watt has a heart for children and a passion for Scouting. She is currently our Chair: National Scout Programme. She grew up in Uitenhage, a small town in the Eastern Cape and works at the Ethelbert Child and Youth Care Centre where she is the Child Care Manager. She is a qualified Child Care Practitioner and has a BA(HSS) degree in in Health Sciences and Social Services with a specialization in Psychological Counselling.
"I saw the positive impact the Scout programme had on the children we serve at the Ethelbert Child and Youth Care Centre. I wanted to be part of a Movement that embodied the values that I subscribe to in my personal life. Once I joined and became more involved, it just made sense. I personally believe in what Scouting stands for and what we try and achieve as Scouts each day."
"I was a Ranger with the 1st Uitenhage Ranger Crew. I wanted to be a Scout as I liked the programme and it looked like so much fun. Unfortunately Scouting was not yet open to girls. In 2006 I joined Scouting as the Assistant Troop Scouter for the 1st Ethelbert Scout Troop in the Stainbank District of KZN. A year later I became Troop Scouter. I also joined the 1st Malvern Rover Crew and achieved my BP Award in 2010. In 2011 I gained my Wood Badge as well as my ALT Beads and have been a member of the KZN Adult Leader Training Team ever since," she says proudly. Adrienne also holds a Certificate of Merit and a Medal of Merit, and is a member of the Lexden Patrol Leader Training Unit and of the KZN Springbok Interview panel.
"Scouting is more than just a youth programme, it is a way of life, a personal philosophy. I have seen how the Scout philosophy has positively changed young lives. My goal in life is to have a positive impact on young people, it is why I chose to work for a child and youth care centre, and it is why I choose to be part of SCOUTS South Africa. I believe in what we in Scouting do, and what we stand for. Being part of this amazing Movement has given me a sense of belonging. It has given me a tribe of like-minded individuals."
A tribe of like-minded individuals.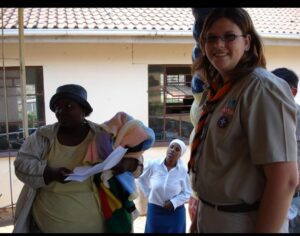 "Over the years I've had so many amazing moments but there is one that stands out. I had trained my Scouts in Survival and Backwoods craft – how to chop wood, light a fire, cook over a fire without utensils, etc. One of my Scouts went home for the weekend to his father who lived in a shack with no electricity or running water – his father bought take away food each day as he had no way of cooking or storing food. After the weekend, my Scout came up to me and told me how he had shown his father how to make a safe fire, and how to make a billy-can and use it to cook over. The pride in this young Scout's eyes is indescribable. It re-affirmed for me that Scouting has a real world impact – and for this young Scout, he was able to improve not only his life, but his fathers as well."
As the Chair: National Scout Programme Adrienne would like to see standardized high quality Scouting being achieved across South Africa. "I want each Region/District/Group to feel supported and know that they are important. My goal is to ensure that Scouting continues to grow from strength to strength, and that a high quality programme is made available to each Scout.
As a Troop Scouter myself, I know the challenges that are faced by Troop Scouters. I also understand the time and dedication they put in. For this and all that Troop Scouters give and do – THANK YOU. Your willingness to give of your time, knowledge and spirit is very much appreciated.
I would also like to encourage our Scouts to remember that they have made a Scout promise. I urge you to continue to live the Scout Law. In doing this you will grow not only as a Scout, but also have a positive impact on your community."
#ScoutProgramme #SCOUTSSA #scoutssouthafrica #Skills4Life #ScoutPromise #ScoutLaw #YouthEmpowerment #Volunteer #Volunteerism #Scouts #Scouting