Written by Megan Evans, SSA Youth Influencer Gauteng
In a country where 55.5% of the population lives on less than R992 per person per month, the burden of the menstrual cycle results in 30% of all girls missing school due to their lack of access to feminine hygiene products. As of 2018, sanitary pads no longer carry VAT, but lower-income women are still projected to pay at least R600 per year on menstrual products. Poor school attendance has a ripple effect on the economic development of communities and the nation as a whole, making menstrual hygiene a societal issue- especially considering basic education is a human right. #worldhumanitarianday
Gauteng Young Leader Representative and Eland District Rover Crew member Justice Kgomo has taken the initiative to help girls in communities that cannot access or afford menstrual products, by aiming to collect 3650 sanitary pads by July 2022. The Rover motto is "Service," and this project fulfils one of the requirements for the Service Bar, an advancement towards the top award, the BP Award.
"The world is a jungle of some sort. Changing how we think or do things as Scouts can help change how others view the world as well," explains Justice.  "Since the Covid-19 outbreak started, thousands of workers have been retrenched and salaries cut, resulting in an even greater decline in access to sanitary products. Funding and sponsorships to institutions like orphanages and shelters have decreased, which would result in a decrease in food and essentials, including menstrual products", he continues.
"I have found that when I support and provide guidance to my female peers their problems stemmed from financial insecurity. So, I aim to collect 3650 sanitary pads within a year to provide some relief to families that are struggling due to the pandemic, in the hopes that the future female doctors and teachers have opportunities to reach their full potential and have an equal opportunity to their male counterparts", he says firmly.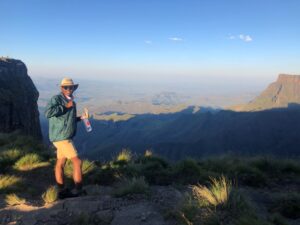 "When we look at what is currently happening in our communities, there is no denying it:  either we face it or run away from it, but the fact remains that a decision has to be made regardless."
To contribute to the Sanitary Pad Collection Drive, contact Justice on justice.kgomo@scouts.org.za or drop off donations at the Gauteng Regional Scout Office ( Glen Road Bramley, Johannesburg) from Wednesdays to Fridays.
Messengers of Peace is an initiative started by World Scouting to inspire and motivate positive change within a community to bring about peace and sustainable development to create a brighter future. Messengers of Peace was started in 2010, and has since inspired 16 million projects, totalling 2.3 billion hours. For more information go to https://www.scouts.org.za/members/better-world-framework/messengers-peace/
Sources quoted in this article include:
Chutel, Lynsey. 2017. "Post-apartheid South Africa is failing the very people it liberated." Quartz Africa.; "The cycle of the menstrual burden." 2019. South African Human Rights Commission.; Mokone, Thabo. 2018. "Tito Mboweni scraps VAT on sanitary pads." Times Live.; Rodriguez, Leah. 2018. "Menstrual Products Have Been Declared Tax Free in South Africa." GlobalCitizen; Messengers of Peace.